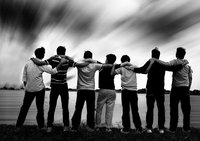 Welcome!
We are a friendly group of people, mainly from Hatherleigh, and surrounding villages, who want to share the relevance of Jesus and church family, in everyday life.
Look forward to meeting you soon...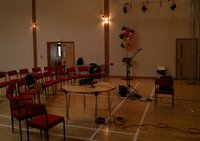 A typical Sunday consists of coffee/tea from 10.30 am followed at 11.00 am by an opportunity for worship (through singing songs) and Bible based teaching.
We have organised children's work running along side the main meeting, all leaders and helpers are DBS checked.
We want to be a relaxed and friendly church, where people join in as they feel comfortable and come and go as convenient to them.
We would like to take this opportunity to invite you to come and join us one Sunday from 10.30am, come and have a coffee, say hello and see what we are about.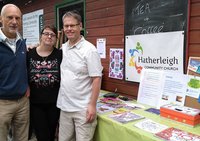 You can find us at Hatherleigh Market on Tuesday morning if you like to chat... or we can help with:
Housing issues
Money worries
Questions about the Okehampton Foodbank
If you are having problems getting online
Feeling fragile?
26th Sunday
10:30a.m. - 12:30p.m. Interactive (in the Multi-Use Room) Meeting at
Community Centre
2nd Saturday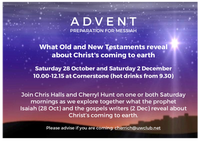 10:00a.m. - 12:15p.m. Preparing for Christmas Course at
Cornerstone Exeter
A D V E N T
PREPARATION FOR MESSIAH
What Old and New Testaments reveal about Christ's coming to earth
Saturday 28 October and Saturday 2 December
10.00-12.15 at Cornerstone (hot drinks from 9.30)
Join Chris Halls and Cherryl Hunt on one or both Saturday mornings as we explore together what the prophet Isaiah (28 Oct) and the gospels writers (2 Dec) reveal about Christ's coming to earth.
Please advise if you are coming: cherrich@uwclub.net
17th Sunday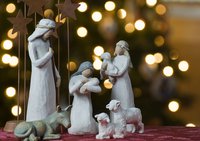 31st Sunday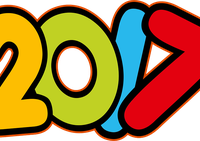 7th Sunday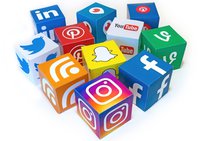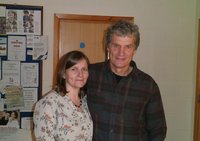 Sarah and Donald
Donald and Sarah have lived in Hatherleigh for 28 years. Donald works on a local farm and Sarah works in the pre-school.
They enjoy walking their dog in the countryside and spending time with family and friends.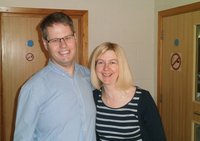 Andrea and Patrick
Patrick and Andrea have lived in Hatherleigh for over 20 years. In their earlier years, Patrick and Andrea were dairy farmers at Zeal Monachorum.
Patrick enjoys computers, cycling, cake, coffee and chatting.